How To Learn Digital Marketing in 14 Days: Complete Guide and Roadmap
Created By Indiehackers.com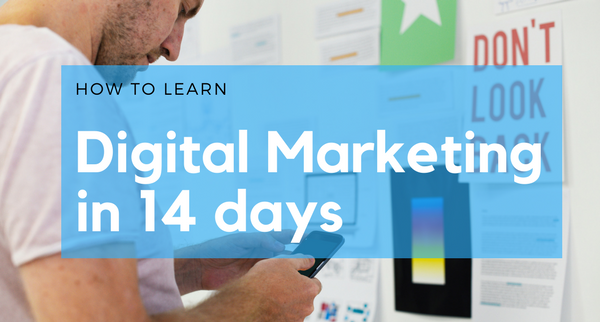 Dropped Out Students Count:
Completed Students Count:
Self-paced education, Top down
How To Learn Digital Marketing in 14 Days: Complete Guide and Roadmap
Digital Marketing is one of today's most coveted skills. With increasing internet penetration and reductions in data rates, more and more people around the world are coming online and consuming more content online. This has brought businesses new opportunities to draw these people towards their brands, services, and products.While there are more resources for learning digital marketing available on the internet than you can ever imagine, it has become easier to get overwhelmed by them.With the right amount of hard work, creativity, planning, and genuine resources, anyone can start in this field and gain knowledge to take his or her business or career to the next level. I've penned down this plan to help everyone get started in this field. And I wish I'd had a plan like this when I was starting out some years back.
Features
Course Overview
Each course has short text overview of that course.
Main Modules
Day 1: Researching your customers
The plan should begin with the customer or the end user. In marketing, understanding the needs, want, motivations, and problems of your customers is the absolutely critical first step
Day 2:Basic of HTML and Wordpress
Basic knowledge of HTML and Wordpress will add to your skills as a digital marketer and will make your life easier
Day 3-4: Search Engine Optimization
SEO is one of the main techniques of digital marketers. While it is not essential for every business, it can prove to be an edge for many of them.
Day 5: Copywriting
Copywriting is a critical skill for any digital marketer. If you aren't a good copywriter you should definitely hire one.
Day 6-7: Social Media Marketing
Although there are a lot of social marketing channels, you need to focus on the top six: Facebook, Twitter, LinkedIn, Pinterest, Instagram, and Google Plus (just because you don't want Google to hate you!).
Day 8: Discussion Forums and Influencer Marketing
While learning about user personas, you will get to know about the various places where your audience hangs out on the internet
Day 9: Paid Marketing - Adwords and Display
Google and other search engines give you a way to promote your business to those who are searching for the kinds of solutions your business provides.
Day 10: Paid Marketing - Facebook ads and Remarketing
Facebook is the world's largest social network and is known to have about three billion active users.
Day 11: Paid Marketing - Explore other options
There are many other networks like Quora, LinkedIn, Quikr, Pinterest etc. that have their own ad bidding dashboards. You should definitely try these out if your target audience is on these networks.
Day 12: Email Marketing
Email marketing is still one of the most valuable tools for marketers and businesses to reach and engage their customers. A well thought-out email marketing strategy is integral to any digial outreach effort.
Day 13: Video Marketing and YouTube
Videos are a big part of today's digital landscape. Every well-known brand seems to be creating video campaigns on Facebook, YouTube, and other platforms.
Day 14: Google analytics
"If it cannot be measured, it cannot be improved."
Comments